Posted by Brian on October 13th, 2011
Most of the high school and junior high school librarians in my District just got Nook Color e-readers.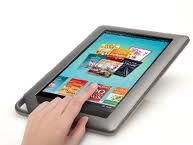 We are trying to learn more about ebooks and stay ahead (maybe we are just trying to catch up!) of the curve. Having had an Android phone for awhile, many of the operating conventions of the device are familiar to me. Still, it's non-ereader functions are quite limited. And, of course, it is designed to make money for Barnes and Noble. ("Angry Birds" was free on my phone, but the Nook version costs money). It is tempting to "root" the device and turn it into an full-fledged Android tablet computer, but since it belongs to the school, I will resist the temptation.